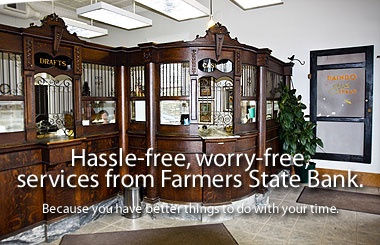 Bank News
Welcome to the Farmers State Bank of Aliceville Internet banking site! The bank hopes that our customers enjoy the convenience and accessibility of Internet banking. Since 1908, the Farmers State Bank of Aliceville has served Coffey County and the surrounding areas.
The main office is located at 305 Dobell Street in Aliceville, the Burlington branch is located at 510 Neosho Street, and the Lebo branch is located at 11 W. Broadway Street.
The Farmers State Bank of Aliceville strives to meet the needs of our customers and market area through quality financial services and friendly customer service. The bank continues to serve the community through competitive loan and deposit rates and sound banking practices. Every effort is made to conduct business by its motto "The bank that appreciates your business" by offering knowledgeable and friendly staff to help our customers with all of their banking needs.
If you have any questions or concerns, please do not hesitate to visit us at any location or by calling 785-489-2468 in Aliceville, 620-364-2468 in Burlington, 620-256-6331 in Lebo.
Protect Yourself from Identity Theft
The crime of obtaining the personal or financial information of another person for the purpose of assuming that person's name to make transactions or purchases.
Read on to find out more about identity theft and what you can do about it.

Phishing Information
"Phishing" is an attempt by criminals to get an unsuspecting victim to divulge personal, confidential information under the guise of a legitimate request. Although modern phishing scams tend to use e-mail, phishing can also be done via telephone, in-person, or via the regular mail. Bottom line…BE EXTREMELY CAUTIOUS WHEN PROVIDING YOUR PRIVATE INFORMATION!